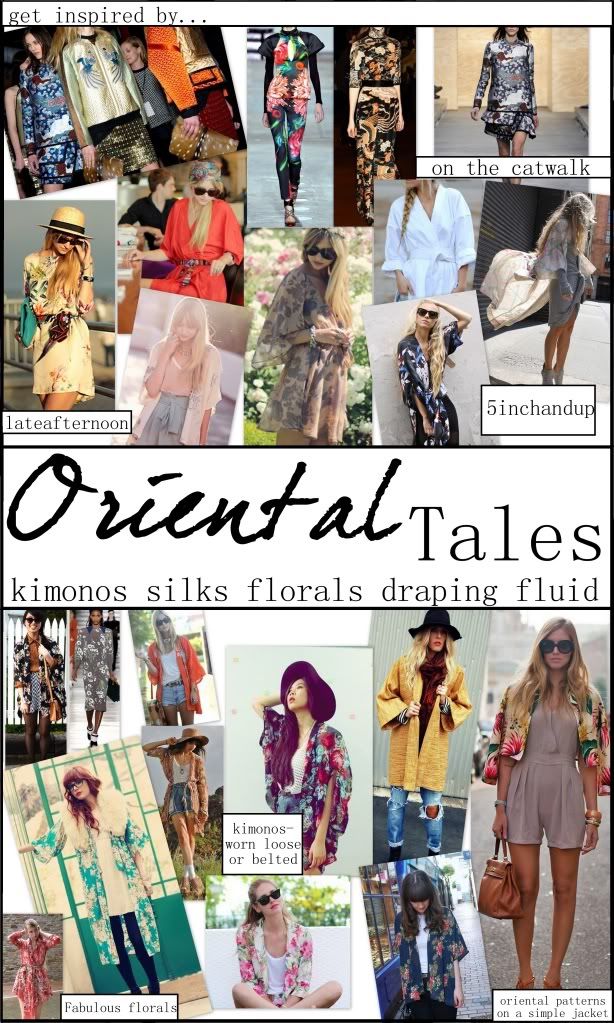 It seems that fashion has ventured into Eastern territory this autumn with all things oriental being a major focus on the catwalk, the high street and most probably making its way into our wardrobes very soon.  Having sprung from talents like Proenza Schouler and Peter Pilotto who sent brilliant brocades, striking prints and sumptuous fabrics down the runways this season, this trend appears less likely to become a fad but instead more of a long-term fixture in what we wear.
For centuries the 'allure of the Orient' has held a fixation in the West.  At the turn of the 20th century ethnic elements began to infiltrate clothing, with Japanese style dresses, kimonos and embroidery influencing the fashions of the time.  Seen as exotic and heralding a new form of beauty based on simplicity and oriental design, Eastern influenced clothing was further popularised by Sergei Diaghilev's Ballet Russes.  At the time it revolutionised the female silhouette, using draping, fluid materials and the innovative kimono style dress in comparison to the rigid and structured shapes of the era.
This autumn, elements of the Orient have once again been showcased all over the catwalks.  A renewed interest in the East should hardly come as a surprise.  Economies there, especially in China have been growing at such an extensive rate over the past decade that it has led to one of the biggest booms in the history of luxury retail.  As a result, designers are beginning to listen to their demands, play on aspects of their history and create pieces to sell to their markets, in turn creating some of the most magnificent Asian inspired collections to date.
The key to incorporating this trend into your own wardrobe is not to lift it head to toe from the catwalk but instead to incorporate elements.  Maybe wear an oriental patterned piece.  Feature a tie or tapering at the waist.  Dress in silks or opulent colours.  If all else fails turn to the iconic item of the kimono.  An instant basic, something to be thrown over skirts, skinny jeans, dresses to immediately add interest and detail to any outfit; this is such a versatile piece.  Worn belted, or left loose, they are effortless and add fluidity to an outfit.  Turn to the high street for your kimono fix- Topshop, Zara and the rest of the high street are all featuring several versions at the moment, see here, here and here.  Two style bloggers who nail this look are lateafternoon and 5inchandup, check them out for some instant inspiration on how to make this look your very own.