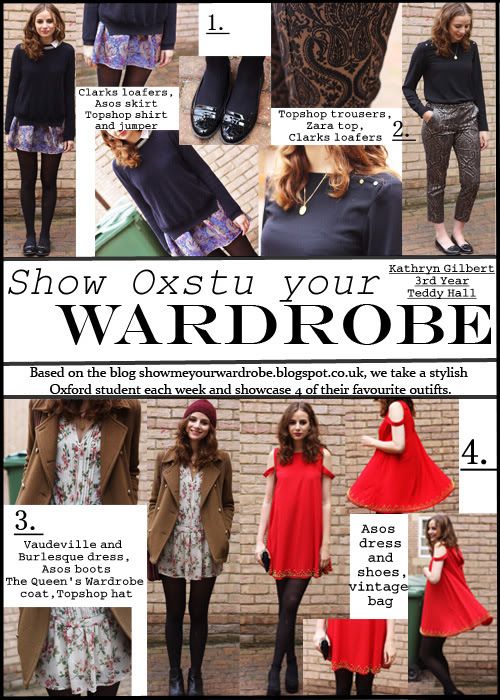 Kathryn, the girl behind this week's 'Show Oxstu your wardrobe' answers a few questions on her own style:
How would you describe your personal style?
At the moment I'm on a bit of a high street drive but generally it's a fairly equal mix of high street and vintage, with a few more expensive items. I love high waists and necklines, and shiny fabrics and details – I generally go for a bit of a 60's London kind of vibe but it changes daily!  I'm not a major fan of jeans.
Where are your favourite places to shop?
Zara for great detailing, Topshop for occasional stand-out items, ASOS for basics and eBay for cheap, original versions of whatever the high street has decided to modernise. I also really like Three Floor (currently only online) for totally different evening pieces. Agent Provocateur is my favourite place for underwear and they have amazing sales.
How do you differ your day and evening wear?
Always wear a bit of a heel in the evening, although I'm pretty tall as it is so the height is nothing too extreme. Sequins also come out in full force. Apart from that there's not much difference – I always like to keep things fairly neat and put together.
What trends are you looking forward to wearing this season?
Baroque! I was so excited to see it on the catwalk as finally something I like was going to end up on the high street. I'm also a big fan of all the purple appearing everywhere.
Where would you say your greatest style inspiration derives from?
My mum and grandma. My grandma was such a classy lady and would save up for months to buy the best quality pieces she could find. My mum is obsessive about elegance and again, quality. She has the best taste.
Do you have any favourite fashion blogs?
Not really, I read them a few years ago but the whole blogging community seems to dress very similarly these days.
Are there any celebrities/public figures whose personal style you particular admire? If so why?
Not current ones but I wish I could dress like Anita Pallenberg did. She always looked so cool and never tried too hard.
What would you say defines Oxford style compared to where you're from?
I'm from Cambridge so there's not a huge amount of difference. The older generation dress far better here though.