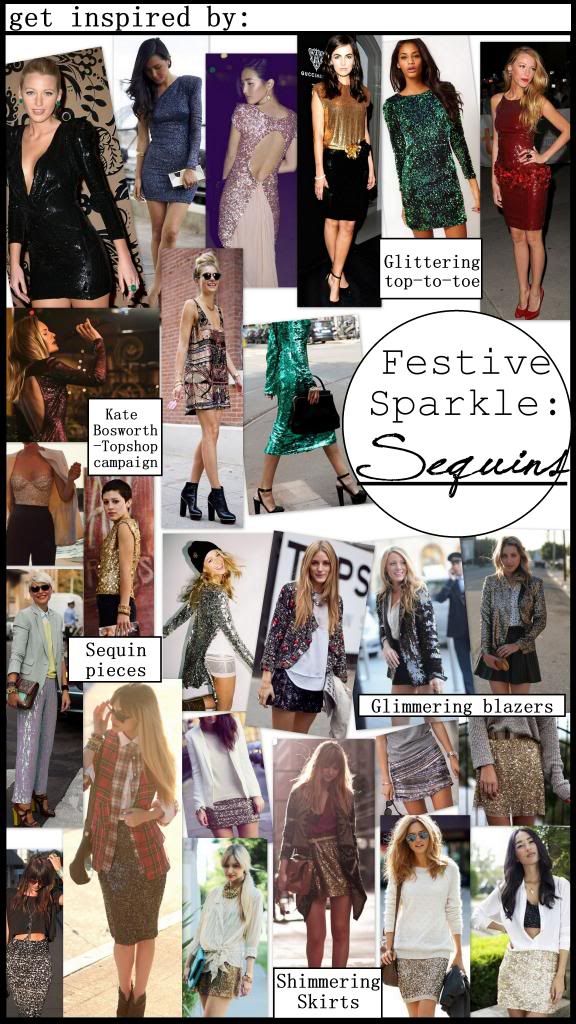 'Tis the season to be glistening, to be sparkling, to be adorned in all manner of lustrous fashion.  Oxmas has been and gone, Christmas is just a few weeks away and we are surrounded by all manner of glitz.  Twinkling lights on the tree, dazzling decorations, even shimmering snow (well at least for some of us!)  Towards the end of the year, anything of the gleaming nature seems ever more appealing.  Thus this week's 'get inspired by' piece focuses on the ultimate festive embellishment : sequins.
A fully flown sequin dress may make you feel like a sparkling Christmas bauble, but it's a great option for any Christmas party.  For a more muted style, a simple black piece like that worn by Blake Lively is an excellent choice.  Details such as strong shoulders or an interesting cut will add appeal.  For a dress a little more out-of-the-ordinary, a colourful variety, such as one in a festive red or green will make it all the more striking.  Look to Kate Bosworth in Topshop's Christmas campaign, wearing a full on shimmering burgundy dress the allure of head to toe sequins becomes instantly clear.
If an abundance of sequins seems a little too much, dip into the trend with individual pieces.  A sparkling top or skirt are great options to take sequins from daytime to the evening.  The skirt is something that can be paired with a relaxed knit for a little everyday glamour, or perhaps with a chiffon blouse for night time.  Sequins however aren't just for skirts and dresses, but for outerwear as well, case in point-the blazer.  Whilst a blazer always looks smart, the attention-grabbing material adds a certain pop, creating a consistently fresh look, especially when worn with more casual pieces such as jeans or a t-shirt.
Whatever your bedazzled choice, one thing's for sure, if ever there was a time to venture into such glittering territory, that time is now.