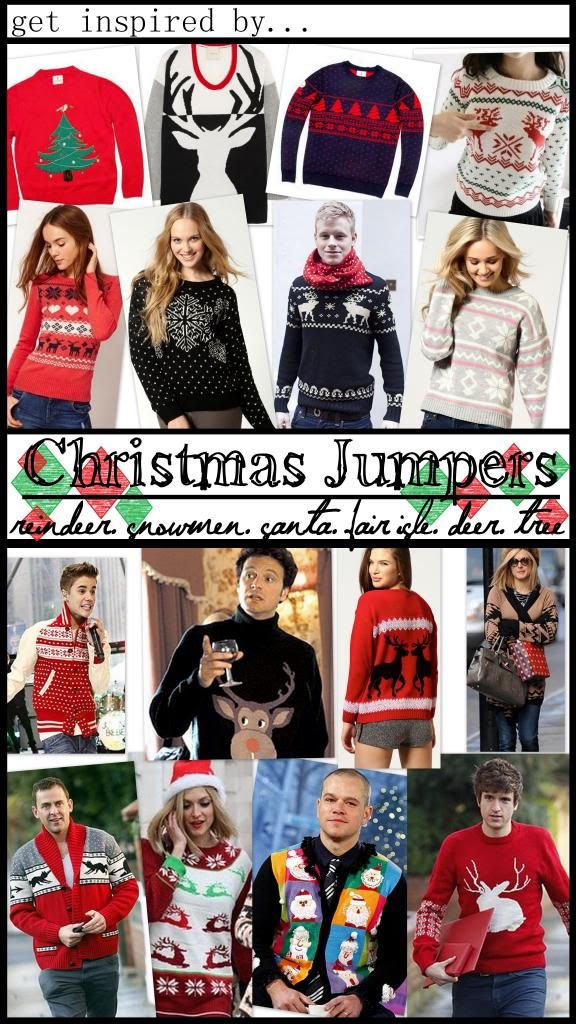 The Christmas jumper is having a major fashion revival.  A few years ago a reindeer head slapped on the front of your jumper would have brought embarrassment and mortifying stares.  Instead this year, it's proclaimed desirable.  Whether the jumper of choice features snowmen, santas, snowflakes, or perhaps a more discrete Fair Isle design it appears everyone has been sporting some kind of festive design.  It is strange how trends come and go.  Think back to the Christmas party in Bridget Jones's Diary with Mark Darcy turning up in Rudolph-emblazoned sweater.  He was considered a complete joke.  Yet today the same design attracts compliments and admiration.  It's clear – people are falling for the simplistic charm of these satirical jumpers.
What then initiated the sudden influx of festive garb (aside from the obvious fact that it's Christmas)?  Well, firstly we can link this trend back to the catwalk.  Both Balenciaga and Givenchy featured jumpers adorned with animal heads – dogs and panthers in 2011, and inevitably this has filtered down to become the novelty Christmas jumpers we are currently surrounded with.  Celebrities and TV shows are also endorsing this trend with Sarah Lund's Faroese jumper in 'The Killing' claimed to have increased the popularity of the Fair Isle variety.  There is also a somewhat tenuous relationship between this style and the current economy.  People are linking it to the less-than-optimistic economic outlook, claiming the trend's gathering momentum is due to its 'comforting' properties in these uncertain times.
It seems charities also want to get involved with this festive fad.  'Save the Children' proclaimed last Friday to be 'Christmas jumper day' with offices and schools across the country bringing out their most outlandish and seasonal designs in order to raise money for charity.  Herein lies the appeal of the trend.  It isn't high fashion or one that's limited to the wealthy, the genetically blessed, or dependent on age, this is one that anyone can buy into.  Charity shops, high street retailers and high end labels are selling them.  The young, the middle-aged and the elderly are wearing them.  Quite literally, there is something for everyone.  A trend without constraints.  Well, there is one slight hitch.  Get it now and wear it while you can. By mid-January, it will no longer be considered endearingly festive, but simply a wardrobe blunder.