Ballgowns: British Glamour Since 1950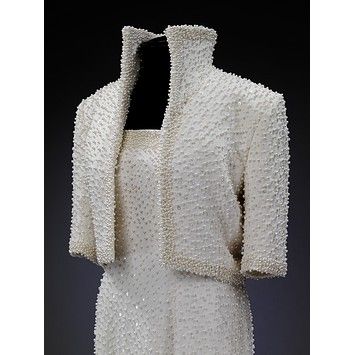 The Victoria and Albert Museum in London has just closed its 'Ballgown' exhibition. I was lucky enough to attend, and thus began my dreams of borrowing one of these gowns for the ball season here in Oxford. Surprisingly enough, the curators at the V&A were not keen on this idea. Nevertheless, I remain inspired, and I encourage you to look to the ballgowns of yesteryear when choosing your own evening wear.
The exhibition charts the last 60 years of evening wear. In the 1950s, it was the debutantes who were wearing the gowns. Nowadays, it is much more likely to be an actress swanning down the red carpet. This change was reflected in the exhibition: whilst the downstairs featured the iconic gown worn by Princess Diana, the upstairs featured Sandra Bullock's Oscar gown.
The uniqueness of these gowns is reflected in the extremely personal creative process.  All are couture pieces, with each having been handmade for the individual. The designer Lindsay Evans Robertson recalled being asked to match the colour of silk to a set of aquamarines 'the size of gobstoppers'. The relationship between the wearer and a designer involves trust and several of the gowns included in the exhibition are the product of collaborations spanning multiple decades.
Elizabeth II ended formal Court presentations in 1957, so as the debutante ball came to a close, the more egalitarian charity balls came to take its place, and later, it would be the red carpet where these gowns would be presented. As the occasion altered, so too did the style. Ballgowns became less modest and the advent of the internet meant that designers began to think about how the wearer would be photographed. Furthermore, the need to make a media splash has led to increasingly bold designs (Lady Gaga's meat dress springs to mind). However, the very notion of a woman wearing trousers as evening wear would have been unthinkable in the 1950s; now it is a daring and stylish choice.
One only has to look in shops like Coast or Phase Eight to note how the gown once preserved for royalty and debutantes has made its way to the high street and into the wardrobes of many. So no, it is highly unlikely that I will be borrowing vintage Dior or wearing Alexander McQueen to any ball, but I suppose we can all experience a little bit of the glamour, just like that displayed at the V&A.
Liked reading this article? Sign up to our weekly mailing list to receive a summary of our best articles each week – click here to register
Want to contribute? Join our contributors group here or email us – click here for contact details