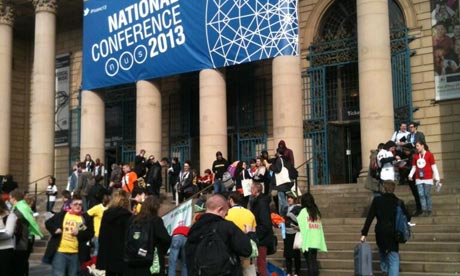 The National Union of Students' annual conference is supposed to be the pinnacle of organised student involvement in democratic structures. It is an event that brings together several hundred delegates and observers from universities across the UK, to debate and decide national policy and practice for the 'student movement.' Motions up for discussion ranged from student union democratic development to sport, welfare financing to women's liberation, national demonstrations against fees to awareness of the plight of UK students from Syria in light of the conflict. Then of course, there was the presidential election, a stressful but apparently also exciting process for those involved. Presidential candidate Vicki Baars, interviewed outside the conference area during the votes being counted, summed up a cautious but cheerful mood that seemed to pervade student delegates at that point. 'I'm absolutely buzzing…really proud of the work my campaign team have put in, we've now got to wait for the vote and see if I can get elected and make the case for further investment in education.' The good mood though, was not to last. For me, what came out of conference was not a clear, democratically-decided direction after a set of careful deliberations. Instead, the stark fault lines and divisions running through and threatening to tear apart the cumbersome and often-obdurate beast that is our national union were unseamed to their fullest. Those three days in Sheffield simultaneously and contradictorily proved the desperate importance and crushing irrelevance of national student politics.
I admit to having a certain political vision of what I think radical student unionism should look like, but that aside, it seems no more than common sense that any student representative body should fulfil at least the following three aims. Firstly, a student union should be run by and for students with the aim of being as representative and reflective of the student body as possible. Secondly, it should fight for the interests of its electorate- be that opposing tuition fees, promoting sports provision or intervening on behalf of sabbatical officers victimized by university managements. Thirdly, it should promote the empowerment of women, LGBT+ people, BME students, the disabled and other systematically disadvantaged groups through autonomously-run liberation campaigns. Conference 2013 failed on all of those basic fronts.
Conference heard two motions that in essence affirmed that the NUS executive should be accountable to students, that only students should run student unions (unelected trustees should be able to advise but not control), and that NUS has a duty to support its sabbatical officers. The fact that universities even feel the need to submit a motion asking NUS to affirm something that should be uncontroversial is concerning enough, but more so is that both were roundly voted down. In an era of sweeping cuts and privatisation to higher education, rising living costs, falling student financial support and the endangering of university staff pay and conditions, one would think robust opposition to such policies would come from a national union of students, whether or not one agrees with austerity. Yet national demonstrations, links with teaching unions, and the Bring Back EMA campaign were vigorously shouted down and opposed.
Meanwhile, in the context of the recent London Met deportations and rising anti-immigrant sentiment, Conference deemed anti-racism policy not worth debating. When the Black Students' Officer challenged the chair on the importance of the issue, delegates laughed him off. The chair then proceeded to ask delegates to do something far more important- tell jokes that delegates had tweeted at her. A disabled activist got up to complain about loud whooping, litter and other issues blocking accessibility for disabled delegates. I observed no particular change in behaviour from most after the activist's intervention, and no attempt to promote accessibility by NUS' disabled students officer.
In addition, four years ago, Conference rejected quotas for female delegates on the grounds that instead NUS should do more to empower women to stand for election as opposed to relying on bureaucratic solutions. Since then, little has actually happened and female representation at conference has actually fallen. Motion 701, which proposed quotas not as a solution but a sticking-plaster to challenge crippling gender equality, was branded 'disgusting' and 'undemocratic.' I spoke outside conference to a colleague who pointed out several incidents which had made Conference an unsafe space for trans* people. One in particular was campaigning by agents for Labour Students-backed candidates outside hotel rooms, including 8am doorknocking. Either they were willing to disturb non-conference hotel goers, or they had a list of delegate rooms, which could only have come from NUS authorities, which would be particularly concerning. In any case, the activist I spoke to claimed that 'the [winning candidate's] campaign had endangered safe spaces…and actively outed several trans* people. This is unacceptable and plays tribute to the lack of mention of liberation issues in the said campaign.' He concludes that 'The NUS staff, NEC and NOLS have colluded to create an environment on conference floor, where only white-cis gendered and able bodied delegates are able to speak freely.'
One might by now forgiven for thinking that I was describing a conference packed with Conservatives, and not the liberal and progressive sort. In fact, the openly Tory candidate for NUS President received half the vote of the hard Left's candidate. NUS, as usual, was dominated by Labour members- specifically Labour Students. Labour Students, formerly NOLS, for the uninitiated, are a unique and painfully bureaucratic clique of so-called 'leftists' that have organised successfully inside the NUS for decades. This organisation's preferred candidates are nearly always elected to key positions. Their 'line' is reportedly checked on Twitter prior to motion votes. In the last few years, they have been responsible for the damp and demoralizing disaster that was 2012's national student demonstration, refusing to support student protesters engaged in nonviolent direction act, and tacitly supporting the doubling of tuition fees. They have worked to smash the left. Indeed, a Labour friend of mine was attacked on Twitter during conference for not voting for 'the Labour candidate'- not that she was promoted as such. Ironically as a proud socialist, I felt more in common with the few Tories at conference.
For whilst we might be bitterly ideologically opposed, we were honest about our platforms and diligently committed to the achievement of our political programme. Not so with Labour Students. Their candidates almost never stand as Labour members. They talk left and act right. They claim we are 'not doing enough' to support FE student funding or women's liberation, for instance, and then vote down the motions that approve them. (Note that I am not talking about any Labour members who happen to be students, or even all Labour Students members. Some are honest, dedicated and passionate. Yet that does not preclude or deny the existence of an angrily-affectionately named 'Nolsie' clique of unaccountable, bureaucratic Labour Students hacks.) Their sole aim, and they assume the aim of all students, is a Labour victory in 2015 – and for many of them, securing a career in the parliamentary party. They talked at conference of when 'we' win the 2015 General Election, as if every NUS delegate was a Labour member. They attack the betrayals of the Liberal Democrats on fees, and ignore their own party's repeated U-turns on tuition fees. In summation, I can only repeat, they are a loose coalition of people who seem to base their electoral currency on talking left and acting right. Representatives of the group have thus far been unavailable for comment.
By the second half of conference, an NUS sabbatical officer asked us to 'thank Endsleigh (the insurance company) for all the help they have given the student movement.' Never mind the students who had their heads kicked in on Whitehall defending free education, then. This was ten minutes after we had been patiently explained to why we really, really needed an unelected Chief Executive Officer paid £100,000 per year of students' money to help represent students. After a couple more explosions of management speak, seemingly used without irony, I left to have a pint and mourn student democracy. Outside the conference, the mood was one of general despair at the intractable stage-managed nature of the whole affair. Independent candidates had got nowhere. First-time delegates were not even too sure what was going on. A series of errors with voting pads and a barrage of procedural motions including two votes of no confidence in the chair had delayed proceedings into a chilly evening. One Oxford NUS delegate recriminated a 'lack of engaged debate', whilst another dismissed the day's sessions as 'boring…considering the circumstances.' The next morning, an independent candidate for student trustee said in her speech that she didn't have a clue why she was standing there as she was never going to get in given the entrenched bureaucracy.
One of conference's highlights was Sam Gaus, the man behind standing an 'inanimate carbon rod' for NUS President. His speech included such pledges as 'We need to be future clear about where going to and from. Now movement ever before are we proud of future being together.' He went on to add that his inanimate carbon rod 'will not lose a vote and do it anyway. It will not ram a corporate strategy document down your throat without a mandate.' The parts about a student-worker army of death cyborgs notwithstanding, the great irony was that to me and the gallery around me, most of the first part of his speech was indistinguishable from the winning candidate's. I asked him afterwards why he'd stood and then withdrawn the Rod. He slammed the NUS as a 'democratic shambles, with an institutional stranglehold by Labour Students and other interest groups', and something which would need to be 'extremely radically changed over a long period' in order to act as an appropriate voice for students. He withdrew from the campaign because 'being president for a year wouldn't help', maintaining that it was important to 'exist in a critical capacity to the NUS.'
The other contentious incident was the hustings for VP Higher Education. Independent candidate Naomi Beecroft launched two blistering attacks, first on the NUS bureaucracy and by implication her Labour Students rival, and then on the other contender, a Socialist Workers' Party candidate. 'We didn't expect an ineffectual leadership to stab us in the back quite as unashamedly as they did' she said, adding an aside about NUS-funded lobster dinners on the Thames. She proceeded to challenge the SWP on the issue of recent mishandled rape allegations inside the organisation. When Evans, the SWP candidate, came to the stage, a large proportion of delegates walked out of the room, refusing to hear his speech, and congregated on the steps outside. His reaction was brief and brisk as he walked away from Conference. 'We need a union that fights austerity…that links up the struggles', identifying a weak leadership and the effects of Tory education policy. Beecroft responded with agreement, but contending that no anti-cuts campaign could be legitimate without a focus on women's liberation, highlighting the presence of structuralised sexism within both the NUS bureaucracy and the SWP. Another delegate who had walked out on Evans nonetheless raised the criticism that many who had done so to score a political blow against socialists rather than from the standpoint of feminist principles. The interventions of Gaus and Beecroft, disparate perhaps in style, substance and context, nonetheless both pointed to two major failings threading their way through Conference. The first is a myopic intransigence toward issues of both women's oppression and oppression more generally that ranges across the political spectrum. The second is an ossified, crystallised and ever-more managerial NUS bureaucracy seen by many as being elected on buzzwords and pledges of tokenistic action year on year.
I came to conference reasonably optimistic in spite of my cynicism, for an event which would highlight the relevant and worth of student democracy. What we got was the best argument for the people I spend many a conversation disagreeing with, the apathetic self-isolators who believe student unions are a waste of time. This is not to say I suddenly agree with them. Student unions are vital organs for both undergraduates and postgraduates. They are there to provide services and support, represent us, provide a hub for debate, action and confidence-building, and organise mass collective action in defence of the university interest when it becomes necessary. A federated union which brings university populations together in a national cohesive structure is the ultimate expression of that, and thus, neither the hopeful nor the demoralised should give up on the NUS. But that does not change the fact that it is bent if not broken, and the student movement needs to push it and bypass it if the former becomes impossible. It is a sad state of affairs when in student politics it has become radical to be a democrat.