Reckon you're going to flop finals? You're not alone. Phoebe Williams and Rebecca Roughan chart Oxford's most successful failures.
Evelyn Waugh
"You spend the first term at Oxford meeting interesting and exciting people and the rest of your time there avoiding them"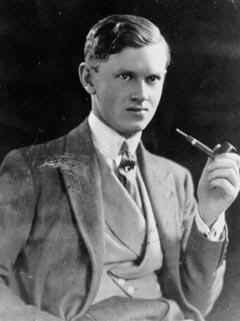 So intently did Waugh try to avoid his contemporaries that he actually dropped out – but mostly because his scholarship was revoked when he got a third. Just proves no good can come from writing for Cherwell. In a letter to a school friend he confessed, "I do no work here and never go to Chapel," which cements our belief that he was just like us but probably more of a bastard. As well as penning Brideshead Revisited, he spent a lot of time offending people, being described by James Lees-Milne as "the nastiest-tempered man in Britain." Insufferable, yes – but sounds like a hoot.
Philip Pullman
"It was the year they stopped giving out fourth class degrees, otherwise I'd have got one of those."
We admire a man of modesty. Not that he has a great deal to be modest about – apart from his third-class English degree. Look at him now. Creator of His Dark Materials, winner of countless literary awards and all-round nice chap, Pullman and  his work are reminders that Oxford can be a magical world of secrets and adventure as well as the bringer of work-induced dread and Park End carpet. Nice one, Philip.
John Betjeman
"I don't think I am any good. If I thought I was any good, I wouldn't be."
Turns out Betjeman was right about the first bit, at least where his degree was concerned. He spent a lot of time being bullied by his tutor C. S. Lewis, who called him an "idle prig," and he left Magdalen without a degree having been significantly overshadowed by his teddy bear, Archibald Ormsby-Gore, who served as the inspiration for Sebastian Flyte's teddy Aloysius in Brideshead Revisited. Betjeman's academic failure at Oxford was not a sign of things to come, however; he later became a Sir and will forever be preserved in statue form at St Pancras station. There's hope for us yet.
W. H. Auden
"A poet is, before anything else, a person who is passionately in love with language."
Auden's love affair with language wasn't enough to clinch academic honours, and he left Christ Church in 1928 with a third in English. Didn't stop him becoming a poet described by many as one of the greatest writers of the 20th Century (and having a lot of sex, by the sounds of things). Loved by many for his generosity, wit and extravagance, Auden also liked to cross-dress, once playing Katherina in a school production of The Taming of the Shrew. He sounds like fun.
Percy Bysshe Shelley
"Fear not for the future, weep not for the past"
… Which sounds to us rather like an old-fashioned YOLO, a mantra that Shelley seems to have embraced wholeheartedly: he was sent down less than a year into his Univ career after the publication of his 'blasphemous' The Necessity of Atheism. Naughty. He allegedly attended only one lecture whilst at Oxford, but often read for sixteen hours a day. Went on to marry Mary Shelley and write such famous poems as Ozymandias, Ode to the West Wind and To A Skylark. Any idol of Oscar Wilde's is a friend of ours.
A. E. Housman
"I found Cambridge to be an asylum, in every sense of the word"
Clearly Alfred Edward Housman was not born to be an Oxford man. Despite a flying start, attaining a first in Classics Mods, he failed finals after becoming increasingly obsessed with Propertius (an author not on the syllabus) and a hunky Blues rower named Moses Jackson. Jackson is understood to have been the only love in Housman's life, which is unfortunate as his feelings were entirely unreciprocated. Sigh. After leaving St John's College in 1881 without a degree, he followed Jackson into a career in clerking before finally getting the message when he wasn't invited to the athlete's wedding. He took solace in Latin and went on to become a highly successful poet and the Kennedy professor of Latin at Trinity College, Cambridge. Never one to dwell on the past, Housman ended his days taking lonely walks at the Other Place and writing poems such as To an Athlete Dying Young.
PHOTOS/nnbd, Chris Boland, Gill Rickson, Van Vechten, Alfred Clint, E O Hoppe