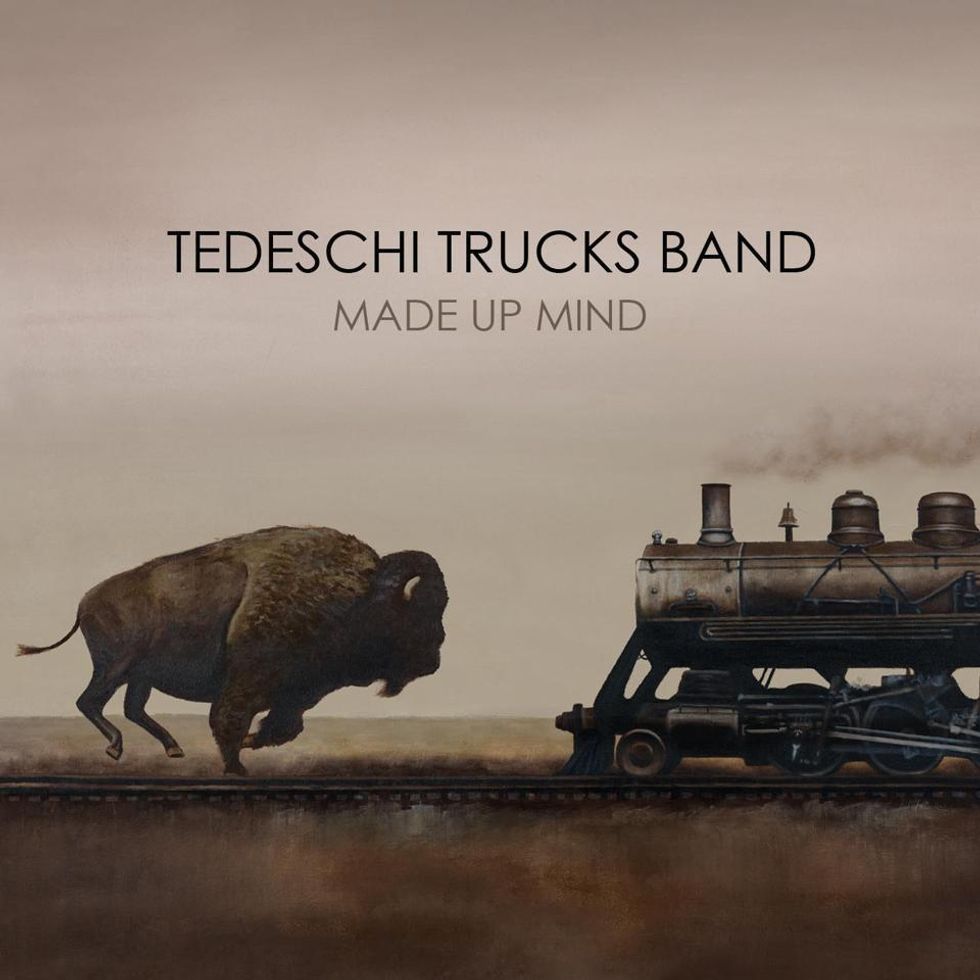 Uncluttered and with new Motown influences, Made Up Mind is an album from a band showcasing a refined approach to playing the blues. Tough, tight and lean, Susan Tedeschi's vocals are gutsy and expressive, and the restrained slide-work of Derek Trucks takes your breath away with the slightest gesture.

The combined blues-jazz-fusion work of Susan Tedeschi and Derek trucks, along with their eleven piece band, can be called anything but lazy. Coming together in 2011 to release their first album Revelator, which won a Grammy Award for Best Blues Album, they have gone onto release a live album and this second release in two years. Even aside from their monstrous touring schedule, that kind of output isn't to be sniffed at. Famous for their diverse influences (Trucks for instance in his fascination with Gospel and Indian classical music) new album Made Up Mind shows a more restrained set of inspirations, at least geographically. They have moved away from the flamboyancy of some of their live work, and sought a sense of clarity in their recording. But with a sound straight from Stax Records and tight, effective arrangements this change in approach is far from a bad thing.

Central to this new sense of clarity comes from the production efforts of Trucks himself alongside Jim Scott, who had previously worked on By the Way by the Red Hot Chilli Peppers, as well as Bridges to Babylon by the Rolling Stones. Tracks like "Do I Look Worried" clearly show this new found precision. You can hear the full force of the eleven piece band, and yet no part of it is overpowering. Trucks' guitar is present but not excessive, his solo is central and prominent but not histrionic. And above all of this, Tedeschi's soaring vocals have pride of place, rising on the backing her band gives her and squeezing all the emotion out of this riling track. Similar expression and emotion is felt in the album closer "Calling Out To You". Kept simple with acoustic guitars with a glass slide, Tedeschi's voice is tender and perfectly balanced with the guitar backing and laid-back tone. The production and arrangements by Trucks and Scott are truly exceptional, with a focused sound free from excesses and overindulgence.

This focused style works perfectly for tracks such as "Do I Look Worried" and "Calling Out To You", allowing the listener to feel deep motion in the delivery of Tedeschi and Trucks. But this still leaves room for some absolute belters, tracks which snarl and bite, and which force you to start tapping along to the strong beats and impressive vocals. Title track and opener "Made Up Mind" has a riff from Trucks which rips into his strings, and the vocal work of Tedeschi sends shivers up your spine as she sings of rejecting a romantic pursuer. Similarly, the blues-rocks swagger of "Whiskey Legs" speaks of a more technically competent ZZ Top, with a beat straight from a heavy T-Bone Walker track. "Part of Me" shows off their Motown chops, with an introduction and melody which sound eerily reminiscent of the Funk Brothers at the height of their career.
Made Up Mind is the sound of a band ironing out the kinks in their recording procedure and developing tracks which are never overindulgent, never less than they could be. Every note and choice of instrument is precisely thought out and every vocal melody is rich in emotion, refusing to be washed into mediocrity through poor or excessive writing. If you're interested in the blues, the neo-Motown sound or you're just looking for tracks to get your heart pumping and your mood lifted, then Made Up Mind is an absolute must listen.

4/5