Jack O'Connell, once of Skins fame, shines in this simple yet powerful drama about a young offender struggling against authority. It follows his 19 year old character, Eric Love, as he battles against staff, inmates, his father and his own temper when he is forced to fend for himself after being prematurely transferred to adult prison.
Eric quickly makes enemies and exhibits his proneness to extreme violent outbursts. Nev, who happens to be both his father and a fellow inmate, warns him to dial down his aggression and unsuccessfully tries to be more of a protective father figure than he had been on the outside, his own anger often getting the better of him. Meanwhile, Eric takes part in therapy sessions with other prisoners, which seem to have an effect on the troubled protagonist.
The tension is ever-present and violence is never far from the surface, keeping the audience entertained but never fully comfortable. The atmosphere is pretty bleak throughout and it all feels quite claustrophobic, which works well given the subject matter. I'd go so far as to say that the film felt a little slow moving overall and there were times when I could potentially have lost interest if not for the consistency of the hard hitting performances.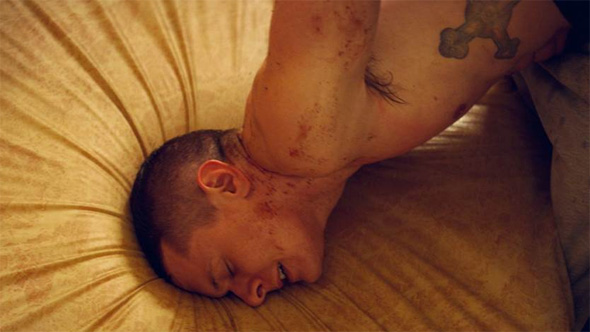 Rupert Friend is great as Oliver, the prison therapist who leads the various group discussion sessions. Not to mention Ben Mendelsohn as Nev, whose performance is gritty and compelling. But the real star is O'Connell. He thrives in a demanding role, always striking the right balance between volatility and vulnerability. I remember watching his scene stealing performance on Skins all those years ago (when "Cook" was just about the only interesting character on a distinctly mediocre show and certainly my only reason for watching it), and I am reminded of his extraordinary acting ability, which really hits its stride in this "raw and immediate" drama.
Jonathan Asser's professional roots as a prison therapist are manifest throughout, with the most effective scenes being the group discussion sessions lead by Friend's character. It is here where his script is particularly convincing and his experience is a huge advantage. Other aspects are not so convincing, namely the rather too obvious character of Governor Hayes (Sam Spruell) as the token evil and corrupt prison official. The depth and complexity of the characters is, for me, the strongest part of the film, so in this way Hayes feels a little out of place.
However, these are just a minor quibbles. All in all, it is a well-written and strongly performed drama which is a bleak yet powerful statement (although about what specifically I'm not exactly sure). It is well worth seeing for Jack O'Connell alone.