It is 9AM in the morning in Los Angeles, California, and Hollywood is already buzzing with activity; everywhere film sets are shifting, cameras are rolling, starlets are rehearsing — and at 8214 Melrose Avenue, Decades Inc, the most celebrated vintage and haute consignment retailer in the world, is two hours off opening time. Once the doors open, one can only speculate who will walk in: iconic actresses, venerated fashionistas and the most discerning of fashion collectors alike visit Decades as a prerequisite of their Hollywood experience. It is here that Nicole Kidman's dress for the premiere of Moulin Rouge was discovered, and the entirety of Rene Zelleweger's iconic 2001 Vogue shoot was outfitted.
But Cameron Silver, the owner and founder of Decades and author of Decades: A Century in Fashion, has kindly found the time in his busy schedule to have a Skype chat with me about the vintage industry – an industry one could easily say he almost singlehandedly invented, or at least re-invented, when his store first opened in 1997. I ask him about the genesis of Decades – when did it occur to him that vintage was a missing element in the luxury fashion industry? "Well, actually, I would say at the time – in '97 – "luxury" was missing from fashion, period," he tells me. "The timing was very fortuitous, because Decades opened in tandem with celebrities and fashion brands realising the power of collaboration, so consequently stars borrowed clothes from designers; designers had VIP wranglers building up relationships and providing samples; and at the same time, Decades was offering authentic vintage one-of-a-kind looks. It was becoming crucial for an actress to reach an "icon" status that had previously eluded her; so really, the timing was just really good. We were getting dressed up again, and the most effective way to wear something to separate you from the pack was to wear something nobody else would have – that happened to be vintage."
He is currently busy curating his newest acquisitions. It leads us on to discussing the difference between designer pieces and "other" vintage. "Designer" vintage outfitters in the UK are scarce and little-known compared to more eclectic shops, but one imagines that Hollywood – famed for its star factory output and product placement culture – is all about the brand. Does he have difficulty with pieces that have no clear designer origin? The answer is surprising: "Occasionally we get things that are amazing or exceptional, but have no label, or are custom-made. Like right now we're going through Anjelica Huston's collection. We have her entire collection from the red carpet – from the 1970s right up to the last few months. Some looks from the later 70s were custom-made; they're incredible, and the provenance of being Anjelica Huston's adds value. But in general, when we take something that doesn't have a clear designer mark attributed to it, it's a case of the piece being exceptional. It may decrease resale value, but that usually just makes selling a bit easier."
Cameron's clientele is a swoon-worthy list of impressive names, the kind that probably take up a fair quotient of the paving slabs on Hollywood Boulevard. Julia Roberts is a regular. The location of his shop, of course, helps immensely with drawing in the stars. But Decades also has an online boutique, so everyone without an LA post-code can lust over his collection (or actually buy something, if they've managed to graduate from a budget dictated by Student Finance). I ask him whether it's as easy, building relationships with online clients as it is the ones who visit his store. Apparently it is. "My best relationships are with clients I've never met before," he enthuses, "and I think that's the power of texting. Maintaining a social relationship is vital – either in person, or via the web, and that happens quite often. By the time I meet some of these people in person, there's such a familiarity through exchanges we have. You know, it's crucial to take advantage of technology. When the store opened in 1997, it was still necessary to handwrite thank-you notes – and I would say the business was built on that, on thank-you notes. Now, it's based on WattsApp and emailing and texting and Facebook messages and Skype."
Discussing modern technology naturally leads me to question Cameron about the roots of the vintage craze. It is an industry that has taken off on both sides of the pond – largely due to the influential success of Decades – and in his unique position as arbiter of a whole style culture, I want to know whether he thinks there's a particular reason, such as nostalgia or economic psychology, why in this modern world people still walk around in clothes fifty years older than they are. But Cameron is keen to stress it is much simpler than that. "I honestly think it's just about looking good," he muses, "If the garment makes a woman's boobs and butt look good – whether it's vintage or modern or designer or Topshop – that's the key. And with vintage, there's that "cool" factor which draws people. It just has a certain coolness to it." So are we seeing a definite schism, then, which positions the vintage-wearer as a rebel in a world that seems otherwise governed by a "mannequin" runway culture? "I think there's another thing with vintage: vintage is dictating modern trends, because everything you see on the runway now is more or less a reworking of something from the past. So you can be wearing this amazing 1930s bias-cut gown, and it will ultimately inspire this designer who sees a picture of it, and then there's this "30s bias moment"."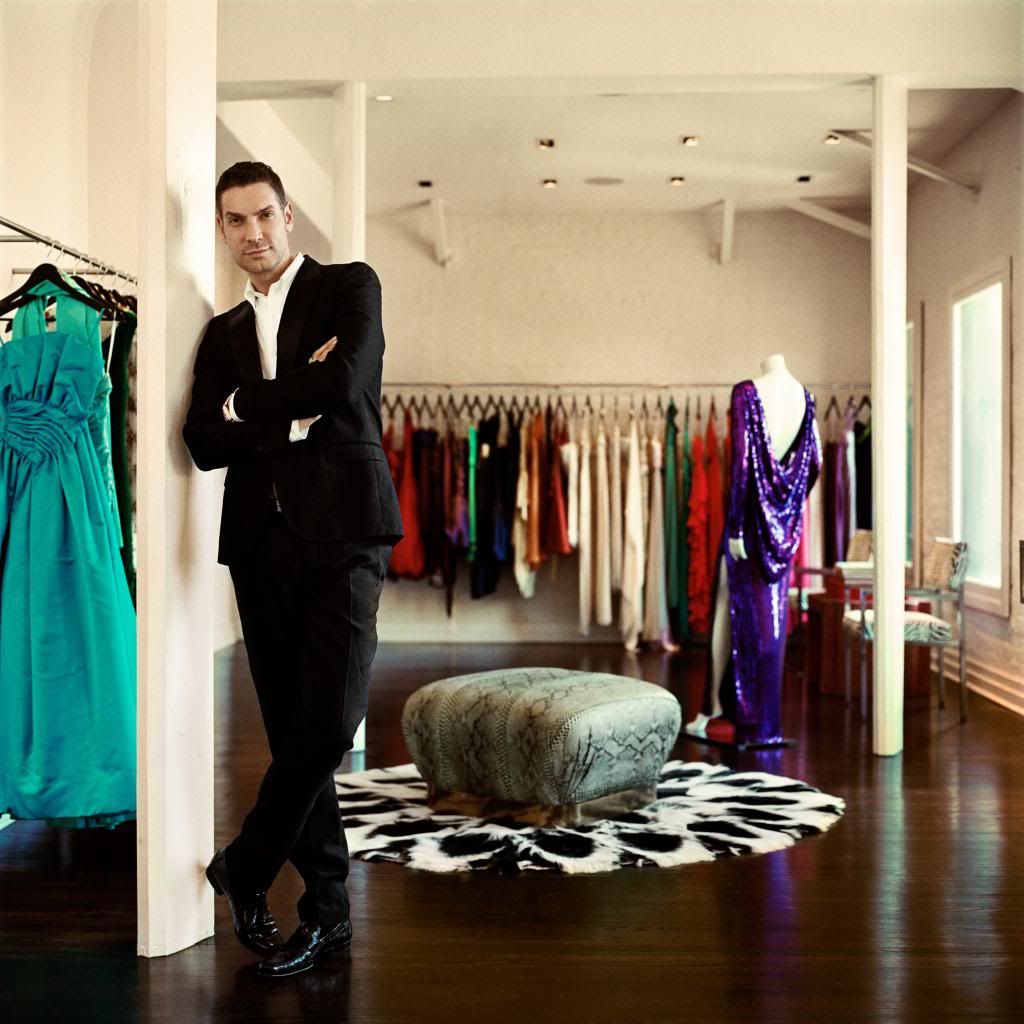 Evidently, Cameron knows more about what women want than most, and he's attuned to the mentality of the woman who will do all she can to get it. I mention the Universal Fashion Law: most women don't want to be caught wearing the same dress as someone else. Is this, then, the key to the success of vintage? "That is definitely one of the challenges for modern designer access: it's great for brands to have five hundred thousand selling points," he tells me, "but there is always a client who still gets alienated. And that's why haute couture has survived – because there is a woman who will pay a high premium – a very inaccessible high premium – for something that is unavailable to the public… and vintage is just a more affordable way of doing that."
The chances of me heading out to L.A. any time soon to snap up a wardrobe filled with Dior ball gowns and Chanel suits, all of which have probably had more sophisticated dinner dates than I have, is about as slim as me winning the EuroLottery this weekend. But Cameron's voice is all honeyed California cadences of encouragement, and puts my nerves to rest almost immediately. I almost forget that he's the man who dresses Hollywood, whereas I can barely dress myself after a late-night essay session. There's a verve and energy to it that smacks of white witchcraft – or pure stagecraft. I can imagine falling under the spell of it, and entrusting myself to his expertise in fashion history, all too easily.
It turns out Cameron has a background on the stage, having trained and earned a BA in Theatre and travelled the Berlin cabaret circuit before getting the keys to his Melrose Avenue premises seventeen years ago. It has helped him immensely, and upon asking him about whether he thinks his training in theatre helps him understand the clothes as well as the clients he meets, we find a topic he is exceptionally passionate about: the performance, the theatricality of fashion. "Retail is great theatre," he says, "and I always say I'm doing the same: I've recycled old music, now I recycle old clothes. But really, it's about giving people a theatrical experience; I was giving a Keynote speech for Fashion Group International last week in Dallas, and I kept reiterating that – the theatre of fashion and retail, and that really, it's all like cabaret: because you have to break the fourth wall. And that really is what you have to do." He pauses for a moment. "And nobody knew the term fourth wall because they were all in fashion." I detect a hint of disbelief, and maybe even a tiny bit of disappointment, in his voice here. People like Cameron invest into fashion an eagerness to understand it conceptually, and this academic interest in itself seems a bit vintage nowadays, when the industry seems swamped with people too keen on procuring what they see as "label integrity", without much thought for the important historical or aesthetic implications of fashion. But luckily, we might soon be seeing this gap in fashion education filled – Cameron has just met with the American Universities to discuss their fashion programs. He might be teaching.
I imagine the advent of a masterclass with Cameron Silver in the art of fashion might be something like a theatre masterclass with Stephen Sondheim. He emphasises the beauty that is the ars poetica of style. He is aware that fashion is inherently self-conscious. And in the meantime, he relies on his theatrical background to complete the experience of a client's shopping experience at Decades: "A lot of that theatre training made me a more effective salesperson and a more effective communicator. It's really necessary to have that theatricality in fashion; on the runway, in retail – everyone wants a little drama."
In his book, Cameron explains his belief that pre-worn clothes have an esoteric element to them – they are brought to life, essentially, by the experiences of their previous owners. "I always remind people that these garments were worn at very joyous times in the past – that creates a positive energy. I remember having a trunk show in Hong Kong, and a lot of people there were almost freaked out, worrying because dead people had worn them! I had to tell them, "they wore these at their happiest times." And anything you buy at a store has been tried on by somebody else anyway."
Despite his obvious talent for the boutique floor, Cameron insists he doesn't want to be in "retail jail" forever. He has previously collaborated with Nine West on a very affordable line of shoes, and last year launched an original collection of designs with friend and client, Dita von Teese. He has in mind a bunch of historical brands he'd like to revitalize – all top secret, unfortunately – and would like to start his own brand at some point. There are some brands, however, he thinks may be better left in the archives of fashion history. He is unsure, for instance, about Harvey Weinstein's recent pledge to reinvigorate Charles James after the 2014 Met Gala's tribute to the legendary mid-century New York couturier. James' output, Cameron thinks, was so exclusive (merely a few hundred gowns), that its aesthetic is entirely its own. He quotes a conversation he had with Azzedine Alaia as explanation: "Alaia once told me that he feels brands, when the creative designer dies, lose the beauty component of their place in the industry, so perhaps in that case, the best thing to do is start a new brand – perhaps under the direction of someone else from that company – and let the old brand fall asleep."
But as far as his own future is concerned, there will be little "sleeping". Inevitably, his store's base in Hollywood has led to long-established interactions with the film industry – and upon being asked whether or not he'd consider working with the costume departments of Hollywood films, he tells me, "You know, I'm very interested in costume design, actually. And I would love to costume-design a film – I've worked as a curator, so I'd definitely consider it. I have an exhibition that's touring in February, opening in Cincinnati, about the costume designer Rudi Guernreich – so yes, that would be very attractive."
An accomplished maestro of his art, the opportunities he has looking forward are all testament to his gift for looking back. Vintage, it seems, is where his blood runs, and is the platform for his passion and devotion. "All the collaborations that have come my way have been a result of Decades, and having this knowledge and appreciation of vintage, and an ability to communicate with the team and use this fashion language that I learned via these seventeen years at Decades." I ask him about how active he is when clients come into his shop looking for The Dress. "I'm pretty hands on," I hear a smile in his voice, "if someone's coming into the store and I happen to be there: take advantage of me. Because I can match the woman and the dress pretty quickly. I have no agenda but to make you look good."
On that note, we need to wrap up – Cameron has to return to curating the wardrobe of Angelica Huston, and I need to finish tutorial work. We are worlds away again; he is the magician in the fabled sunshine of Tinseltown conjuring a dozen Pretty Woman moments a day. And I am in Oxford, sewing hems on secondhand frocks and stressing about deadlines. But fashion is a universal language, one you learn as much through every day experience as you do through the pages of Vogue and shop windows. Cameron's last piece of advice to me is this: Education. "I would say do not solely get a fashion education. You have to have a well-rounded education. Work in retail, you'll understand the public. Work in a vintage shop, you'll learn fashion history. It's super-valuable! It's all about learning." From the maestro with the whole of fashion history, and fashion future, at his feet? I'll listen.